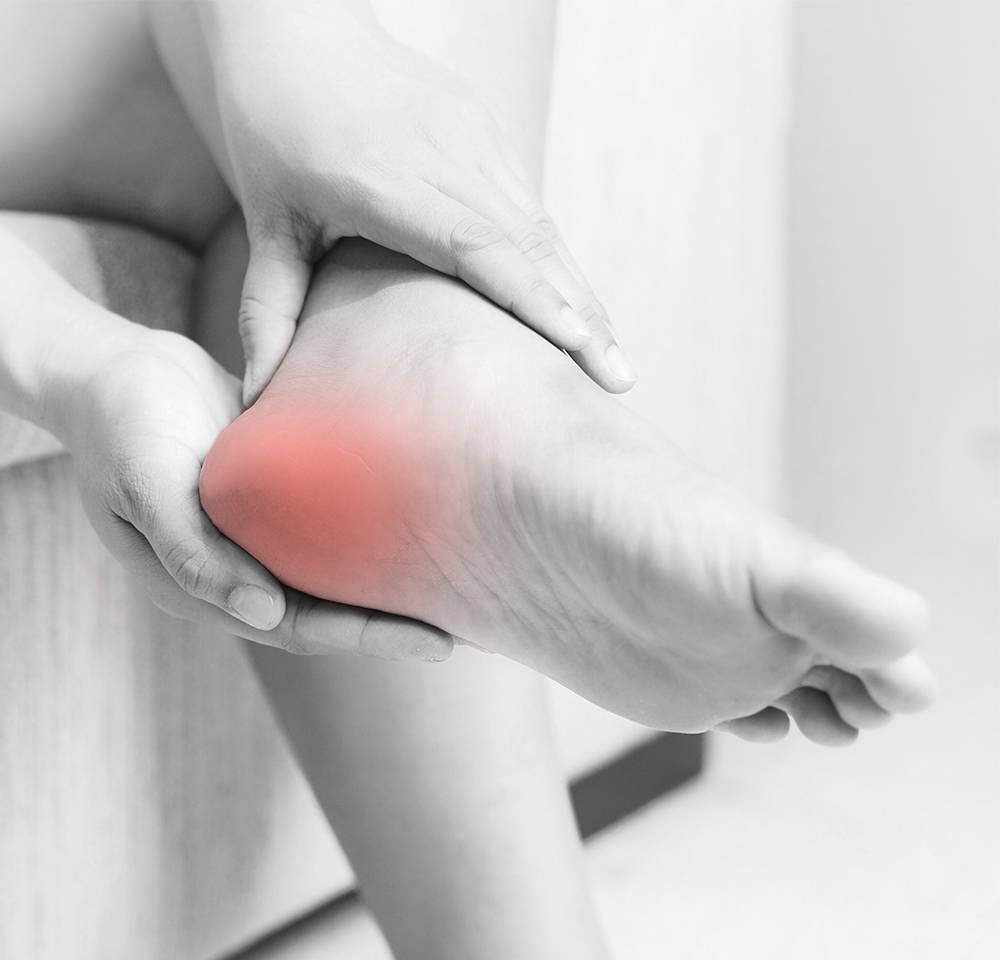 ---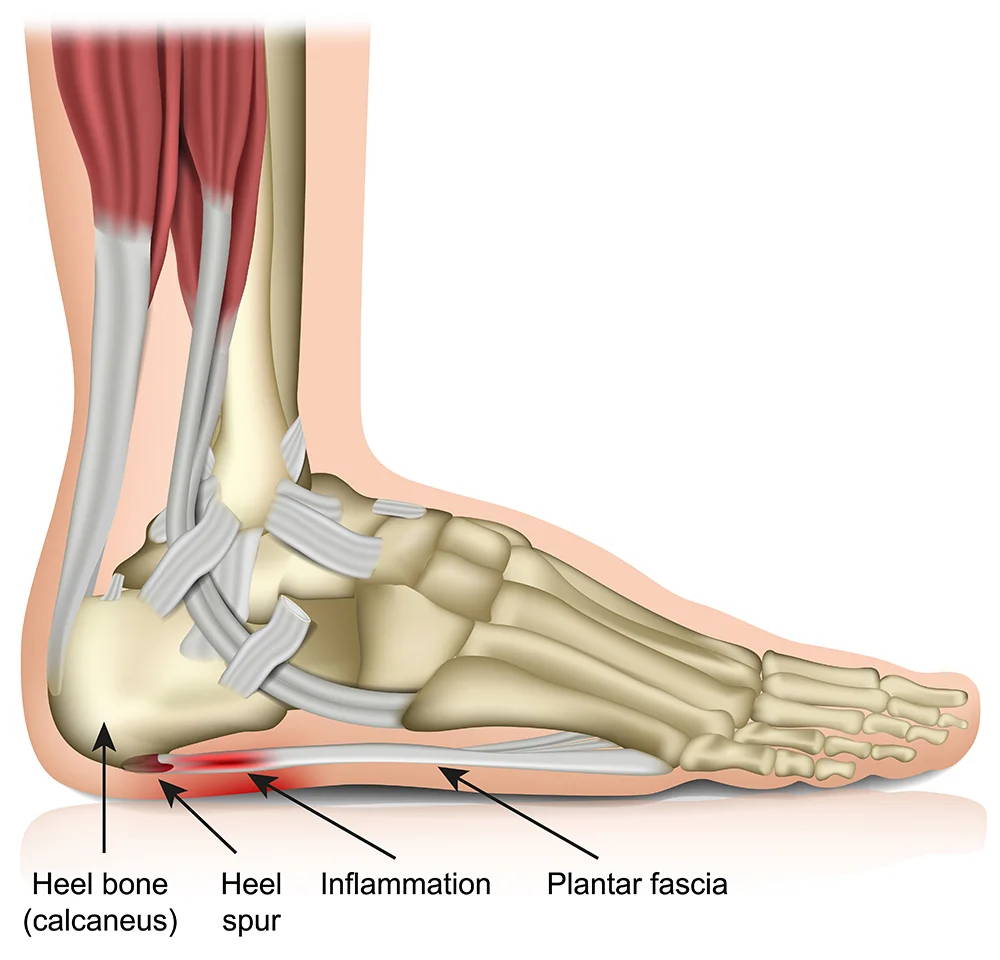 What is plantar fasciitis?
​Plantar fasciitis is a condition which can cause heel pain. It happens when the strong band of tissue on the sole of your foot (fascia) becomes irritated, after repetitive use or due to poor foot posture. Most commonly it occurs in one foot but is possible to have it in both feet at the same time.
What are the symptoms of plantar fasciitis?
There is usually a gradual onset of pain, in a small amount of people there can be sudden damage to the fascia during physical activity.

The main symptoms of plantar fasciitis include:
Pain or tenderness in the heel or arch of the foot
Pain with initial steps in the morning or after a period of rest
Walking short distances may improve pain but longer distances may increase the symptoms again
Pain with sudden stretching of the sole of the foot. This could include going up on your toes or upstairs
Pain with prolonged standing or when wearing flat or unsupportive footwear
What causes plantar fasciitis?
Often there may be no obvious cause for the symptoms. However, certain risk factors can are associated such as:
Many sports which require shock absorption from the foot i.e. running, badminton, boxing, walking, athletics, etc.
Overtraining or increasing the intensity of training suddenly
Heavier people may put excessive strain on the plantar fascia
Inappropriate footwear i.e. flat shoes, shoes without a fastening (laces, Velcro)
Tight calves
How do I prevent and cure plantar fasciitis?
Enertor insoles absorb up to 44% of the impact on every step you take and will outlast 3 pairs of trainers resulting in a great investment for your feet and overall happiness!

Other ways to prevent and cure Plantar Fasciitis:
Changing footwear - switching to shoes with laces or a Velcro fastening help to support and hold the foot better
Shoes with a small heel can take the strain away from the plantar fascia
If you do experience Plantar Fasciitis, get some ice on it as soon as you feel any pain
Use a foam roller or rolling pin under the heel and along the sole of the foot to release and warm up the fascia (especially before putting your foot down first thing in the morning)
If your pain persists, it is essential to see a medical professional asap
Top tip: freeze a 500ml plastic bottle of water, and gently roll your foot over it - this will help to reduce the swelling in the plantar ligament and help relieve the strain
How Enertor insoles reduce pain & injury in 91% of people suffering from plantar fasciitis
Independent studies have proven that Enertor insoles can reduce pain in 91% of all Plantar Fasciitis cases
Enertor's unique shock-absorption technology reduces the ground force impact on your plantar fascia ligament by over 44% every step of your day
We offer a 30 day no quibble money back guarantee
Take a look at our Egg Test video – demonstrating how Enertor insoles cushion an egg being dropped from 0.5m!
Which insole is right for me?
Enertor® Performance (Arch Support) Insoles
Insoles have a curved arch and supportive heel.

Suitable for:
Flat and high arch feet
Normal foot with pain for more than 6 months
Shoe type – sports/hiking/boots
---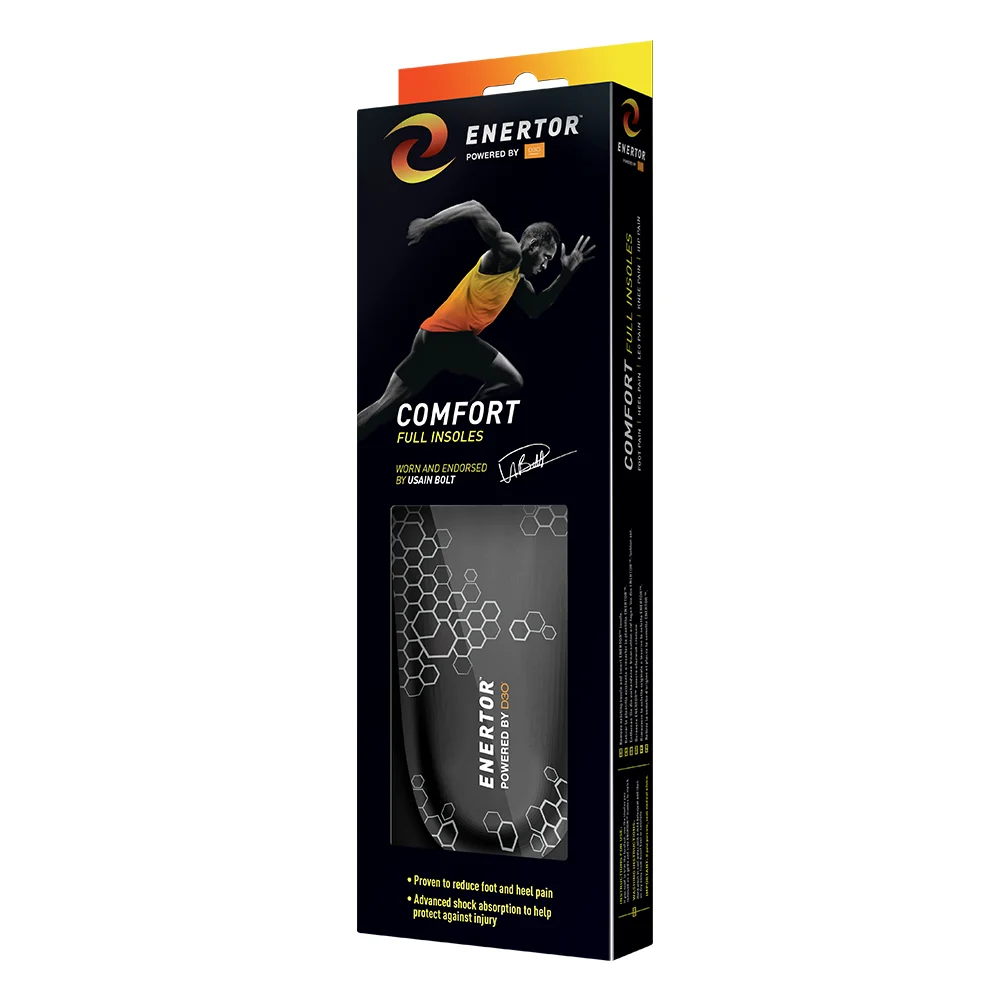 Enertor® Comfort (Flat Profile) Insole Insoles
Insoles have a neutral feel and are very slightly raised at the heel.

Suitable for:
Normal feet with pain for less than 6 months
High arch feet
Shoe type - all
---
Our insoles may be the only insoles worn by Usain Bolt and the British Armed Forces, but they are also loved by people all over the world.
"So good, I bought 3 pairs. I have a large spur on my heel, probably caused by decades of running. I bought two sets of insoles and they helped me so much that I ordered a 3rd set." David H. on Enertor®
"These insoles work very well for me. I am on my feet most of the day and they have remained pain free happy feet." Jane R. on Enertor®
Sign up to our Enertor newsletter and mailing list for advice and great deals
Thanks!
This field is required
This field is required
---
Download our Plantar fasciitis guide.
Sign up to hear our weekly advice.
Contact us at our clinic for more advice:
We have an in-house podiatrist, who will be able to help.
Phone number: +44 1473 831384
Email: info@enertor.com